How to Write a Descriptive Essay Outline
Creating a descriptive essay is simple when a proper outline is followed. Descriptive essay structure is essential for various reasons. Perhaps most importantly, outlining helps construct and organize ideas, creating a foundation upon which an essay is written. For instance, a student who knows how to write a descriptive essay outline will have an easy flow of ideas during the writing process, unlike the one who writes from scratch.
This guide examines how to write a descriptive essay outline. It presents the standard descriptive essay structure on a college level. Stick around for writing tips toward the end. You can also order a descriptive essay outline from myCoursebay—our writers are ready and willing to help.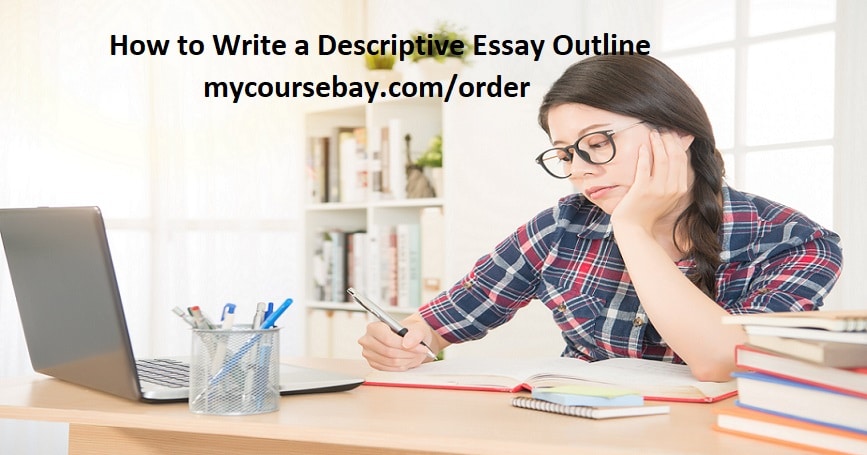 Descriptive Essay Format
What is a descriptive writing format? The descriptive essay structure comprises three parts: the introduction, body and conclusion section. The number of paragraphs per section is determined by how many points you want to address in your essay. We shall focus more on how to write a descriptive essay outline for a five-paragraph essay.
It is essential to understand what this kind of essay entails before creating a descriptive essay structure. A descriptive essay is an essay genre that involves giving a detailed account of something (person, object, place, emotion, situation etc.) in words. The primary aim of this form of essay is to create a vivid picture of something in the reader's mind.
Mastering what to include at each section is paramount to an outstanding how to write a descriptive essay outline. We shall discuss the descriptive essay format in different paragraphs.
How to Write a Descriptive Essay Introduction
Wondering how do you start a descriptive essay? Well, the introduction is usually the first paragraph. A descriptive essay introduction sets the scene of what is yet to be discussed in the proceeding paragraphs.
While writing a descriptive essay outline, start by introducing the topic with an interesting hook. It would be best if you then hinted to the reader the exciting ideas yet to be discussed to keep them wanting to read more. Lastly, provide a thesis statement that will introduce the points that you are going to address. Use the thesis statement at the last line of the paragraph to create interest in the reader that keeps them glued to your paper.
A good introduction speaks volumes of the content in the entire descriptive essay. It should be brief and straightforward as it only serves as groundwork. Everyone who knows how to write a descriptive essay outline understands that this is the most critical part of the descriptive essay structure.
Descriptive essay thesis statement – A thesis statement identifies the topic and the accompanying ideas that support that topic. It should be short, concise and straight to the point. The thesis outlines the main clue of your essay. Every other point in the paper is written in support of the main idea. You will quickly know how to write a descriptive essay outline if you can effortlessly state a thesis as it is the center of the writing.
The Descriptive Essay Body Section.
Having known how to write a descriptive essay outline of the introduction, the next step is to outline the body. The body section often contains three paragraphs, but it is acceptable to write more or fewer paragraphs in this section.
While outlining the body, ensure that every paragraph discusses a different point. How do you structure a description? Start your paragraph with a topic sentence. Here, you present the main claim to highlight to the reader what they should expect in the rest of the section. Follow this with descriptive ideas and enough evidence for back up purposes. Make sure that you finish each paragraph with a concluding sentence. Understanding how to write a descriptive essay outline means mastering how to organize your work.
There should be a smooth transition between your paragraphs. Transition words go a long way to give your descriptive essay a natural flow. You may also want to use the concluding sentence to introduce the next section, as this ensures a natural flow of ideas in your essay. Do not forget to keep your work as exciting and appealing to the reader as possible. Knowing how to write a descriptive essay introduction requires a mastery of relevant writing skills to attract the reader's attention.
It is a good idea to discuss the most vital points in your first and last paragraphs; sometimes, the professors are too busy to read the entire essay. Ensure that the first paragraph addresses the most prominent and noticeable claim to your thesis. Mastering creativity tactics go a long way to help you understand how to write a descriptive essay outline.
The Descriptive Essay Conclusion
The conclusion is the final part of your descriptive essay. In this section, the student wraps up what they have written.  A descriptive essay conclusion links back to the essay topic while reflecting on the significant purpose of your essay. In other words, the descriptive essay gives the reader a clear idea of what they were trying to express.
Here, the main points addressed in the body section are mentioned again as well as the thesis. Restating should be done in somewhat different words from those used in the entire essay without distorting the main idea. Briefly discuss how these points have been essential in supporting the thesis statement. The conclusion should highlight the significance of the topic to the entire write-up.
Rereading the entire essay goes a long way to generating the best conclusion. Ensure also to write a touching concluding sentence to your writing that awakes the emotions of the reader. Knowing how to write a descriptive essay outline means understanding what content should be put in each paper section.
What is an example of a Descriptive Essay Topic?
Coming up with a descriptive essay topic is an easy task – knowing how to write a descriptive essay outline is where the effort comes in. Think of anything, whether a person, an object, a place or an abstract idea. You can describe anything – from your favorite sport to the current political situation. Perhaps you need examples for a better understanding:
Describe your best friend
Describe one aspect of your course professor that you like
Describe a rare wild animal to someone who has never seen it
Describe the most embarrassing situation in your life
Describe the Solvay Process
Describe the rise of the United States market
Describe your happiest memories
Describe your younger self
Describe what you see from your bedroom window
Describe the Amazon climate
At this point, you probably know how to write a descriptive essay outline. It is as simple as that. You may perhaps go through the descriptive essay example below as it brings everything you have grasped into perspective.
Descriptive Essay Structure of a Five-Paragraph Essay
Being knowledgeable about how to write a descriptive essay outline is key to an exemplary essay. The outline gives a framework for writing a descriptive essay, as mentioned earlier. Highlighted below is a descriptive essay format:
Introduction
Captivating statement
Topic introduction
Exciting background information
Thesis statement
Body Paragraphs
Paragraph 1
Topic sentence 1
Claim 1
Supporting ideas
Concluding sentence
Paragraph 2
Topic sentence 2
Claim 2
Supporting ideas
Concluding sentence
Paragraph 3
Topic sentence 3
Claim 3
Supporting ideas
Concluding sentence
Conclusion
Summarizing main ideas
Thesis restatement
Concluding statement to the essay
Proofreading the Outline.
Proofreading is essential to every writing process. After writing the outline, you may want to check if your points are enough to justify the central claims. Proofreading also helps to assess whether the essay you are about to write will flow smoothly. Proofread your work to ascertain that you finally know how to write a descriptive essay outline.
A five-paragraph descriptive essay outline example
Topic: My Best Friend
Section 1 – Introduction
Paragraph 1
Topic sentence: My best friend Zac has a great personality
Background points: We have known each other for over eight years. I knew him when we were in high school. Although we, later on, went to different universities, our friendship is still intact. I love Zac.
Thesis statement: I love Zac since he is caring, compassionate and a lovable soul.
Section 2 – The body
Paragraph 2
Topic sentence: He is kindhearted
Supporting points: He is sympathetic to everyone in need. He always sacrifices his pocket money to help the needy in his class raise school fees. To him, others come first.
Paragraph 3
Topic sentence: He has a great sense of humor.
Supporting points: He smartly uses humor without hurting others. His company is never dull. He often uses his sense of humor to motivate others.
Paragraph 4
Topic sentence: He is trustworthy.
Supporting points: He is honest. He keeps my secrets. He will never turn his back on me. He never lies.
Section 3 – The Conclusion
Paragraph 5
It is a blessing to have Zac as my best friend. He has taught me how to treat the less fortunate. Through him, I have learned to trust someone with my life. He is someone you can never get bored to be around. He is a definition of a lovable person.
Hire Someone to Do your Descriptive Essay Outline Today
You can hire our professional writers to do your descriptive essay outline and other assignments. At mycoursebay, one of the best homework help websites, we are committed to make your study as interesting as possible. Sign up and give you GPA a new BFF.