Are you wondering, "Should I use this service?"  Well, it is human nature to want to spend money on things that bring value; students are not different. You do not need to worry about spending much with us – we guarantee you high-quality writing services at affordable prices. Our verified writers can handle both simple and complex papers. We have the most intuitive and minimalistic process so that you can easily place an order. See below to understand how our affordable essay writing service works.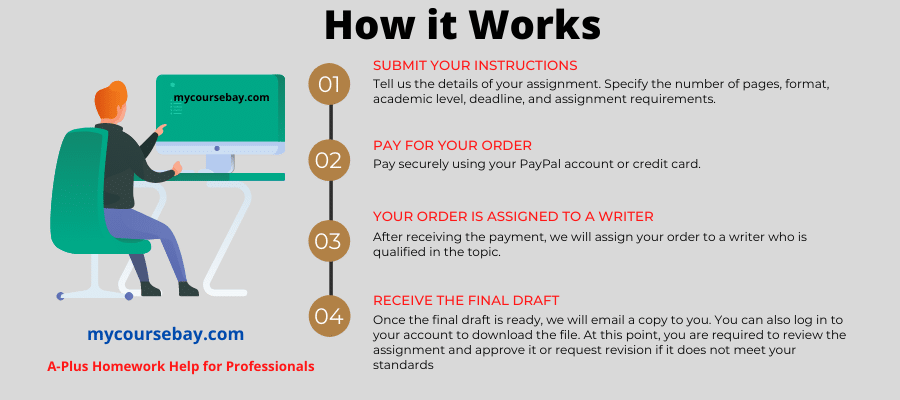 Step 1: Submit your Instructions
The first step to get your work done is giving us the paper details. The details provided will guide us in providing customized services to all clients. Specify the assignment requirements, academic level, number of pages, format and deadline. Remember that our writing services are as good as your instructions.
Step 2: Pay for Your Order
The pricing system automatically generates the price as you key in the paper instructions. Once your instructions are complete and submitted, proceed to the payment section. Pay securely using your PayPal account or a credit card. From here, you will leave the rest of the work to us. You may, however, keep in touch for clarification purposes.
In case you find difficulties with placing an order, do not hesitate to contact our support staff. Our customer service is round the clock, available to provide guidance and assistance whenever the need arises.
Step 3: Order Assigned to a Writer
Once you place your order successfully, we will analyze it in details and hand it over to the most suitable writer. Mycoursebay has a pool of professionals with varied expertise in different disciplines. We ensure that the most competent writer handles your order to produce a paper rich in content.
Our company is always keen on hiring writers. The least qualification is ownership of a degree from a reputable institution. The applicants are then submitted to several tests to gauge their expertise. We also use our clients' feedback to ensure that we only maintain competent writers. Consequently, we have managed to stay at the top of the game if customer feedback is anything to go by.
Step 4: Receive Final Draft
The assigned writer applies background knowledge and uses available resources to yield quality and content-rich results. We usually encourage our students to provide additional reading materials for a more customized paper if need be. Once the work is done and checked, we email it to you. You can as well log in to your account and download the file. We understand that time is critical; therefore, we ensure to beat the deadline. You are advised to go through the paper to ensure that it meets your standards. However, if it does not, which rarely happens, you can request a revision. We do not charge revisions.
In a nutshell, our online writing platform is user-friendly. Placing an order is as easy as posting paper instructions, processing the payment and waiting for the order to be delivered. While third party websites may deceive clients with cheap services, they often compensate for the charges with poor quality papers. At Mycoursebay, we guarantee you affordability and quality at the same time. We have been in the game for the last ten years and crowned among the top assignment help websites severally. Outsourcing us is worthwhile.